Create: gray and yellow geometric art
March 5, 2013
Several months ago, my step-sister Brandi asked me to make her some art for her college apartment's dull neutral walls. Her color theme was gray and yellow (I knew there was a reason I liked her!) so she was going for that but also looking for a little somethin-somethin to lively up her Poor College Student apartment.
I originally made a couple of DIY art pieces for her but didn't ship them to her because John and I fell in love with the best one.

And it ended up on our collage wall.
Whoopsie. Such a wonderful big sister, aren't I?!
Embarrassingly, it's been several months since I've gotten back on the Make Brandi Some Art train. I'm so behind! Luckily Etsy stepped in and helped me out.
Oh Etsy. So much stuff I want; so little time money.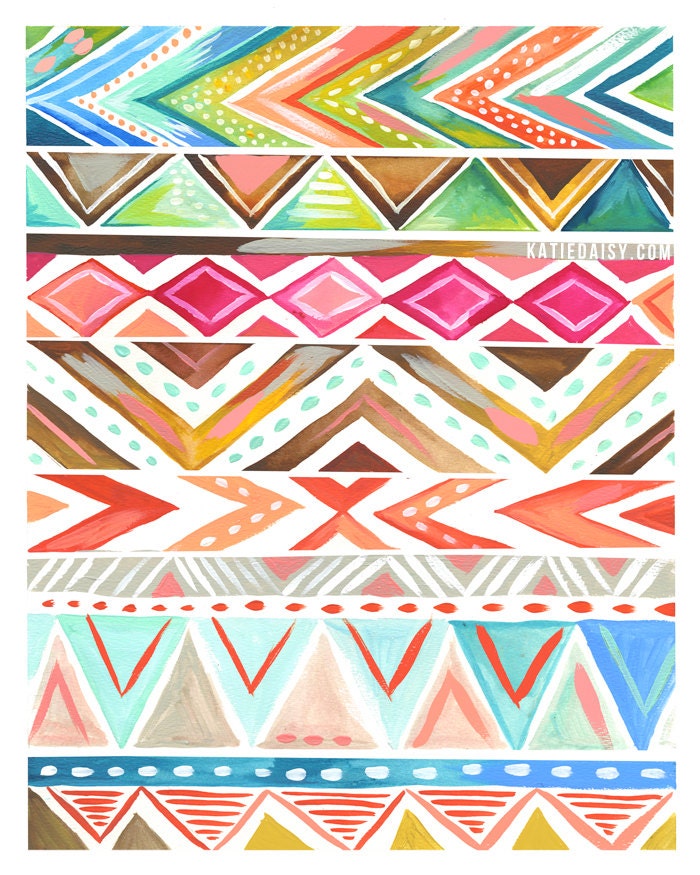 This is the piece that inspired me. Kablammo! Color, texture, pattern, organized chaos. This one totally has my number. I considered just purchasing it for Brandi (only $18!) but I figured that was cheating since she asked me to make her something. So I considered her grays-and-yellows love affair and added in just a hint of seafoam green and magenta for a bit of pep.

Know what the problem is? I fell in love with this one too. Damn! Not so much as a whole but it definitely has happy little pockets of awesomeness going on (I especially love the arrows at the bottom). I think I'll be willing to part with this one even though I love it. Maybe. I hope so!

Since I'm so happy with how this one turned out, I think it makes the others look like poo. Gah. Me and my expectations! (yes I know that is grammatically incorrect, Mom).
I think I'll be searching Etsy and my Inspiration Archives for some new ideas to create for my step-sister. Got any suggestions? Have you been inspired by anything lately? It's supposed to snow tomorrow so that usually gets me excited for projects/life/SLEDDING!!